Biography:
He's been described as the Singing Rough Rider, the Singing Bushman and the Voice Of The Outback, but all these titles are only part of the Brian Young Story.
As a teenager, Brian took to the road competing on the rodeo circuit, and in 1954 at the age of 18 won the World Brahman Bull Riding title. His competing career was cut short by injury, but his other love of performing Country Music came to the fore.
The Brian Young Show has been touring ever year since 1977, taking fantastic entertainment to the cities and towns and the far reaches of the Australian Outback. The tour has brought major entertainers like the incomparable Jimmy Little and Golden Guitar winners Troy Casser-Daley and Beccy Cole to fans all over Australia.
As a Golden Guitar Winner and successful recording artist with his latest album "People and Places I've Known" hitting the airwaves, Brian Young received the ultimate accolade at the 1999 Tamworth Country Music Festival when he was elevated to the Australian Country Music Roll of Renown. He was also awarded the Tamworth Songwriters Association's prestigious Songmaker award during the festival acknowledging his major contribution to Australian Country Music songwriting, and at Tamworth 2000 received the TSA's Tex Morton Award and the Outback Trailblazer Award. On the Queens Birthday 2001, in recognition of his Australian Music achievements, he was honoured with the Order of Australia, OAM.
Brian Young has just released a brand new album with producer Lindsay Butler at LBS Studios. The album will also feature a couple of duets with Country Music hit maker, Troy Cassar-Daley and other leading Australian recording artists that have toured with the Brian Young Show including Lindsay Butler, Shaza Leigh, Kathryn Pitt, Laura Downing and Royden Donohue. The LBS Team comprising of Brian Letton, Tom Maxwell, Ashley Cook, Ernie Constance with Lindsay and Shaz have also included the tribute song to Youngie himself and the title track, "The Last of the Travelling Showmen".

Albums: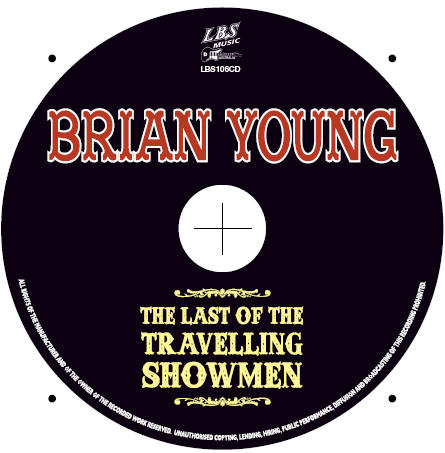 The Last of the Travelling Showmen (2007)
The Best of Brian Young (2006)
Voice of the Outback (1992)
People and Places I've Known (1999)
Big Fella Wudumbah (1987)

All albums available from LBS Music Australia (110 Glen Eagles Drive, Robina, Qld, 4226) Phone: 07 5562 1292