Lindsay Butler receives Country Music's Highest Honour
'Roll of Renown'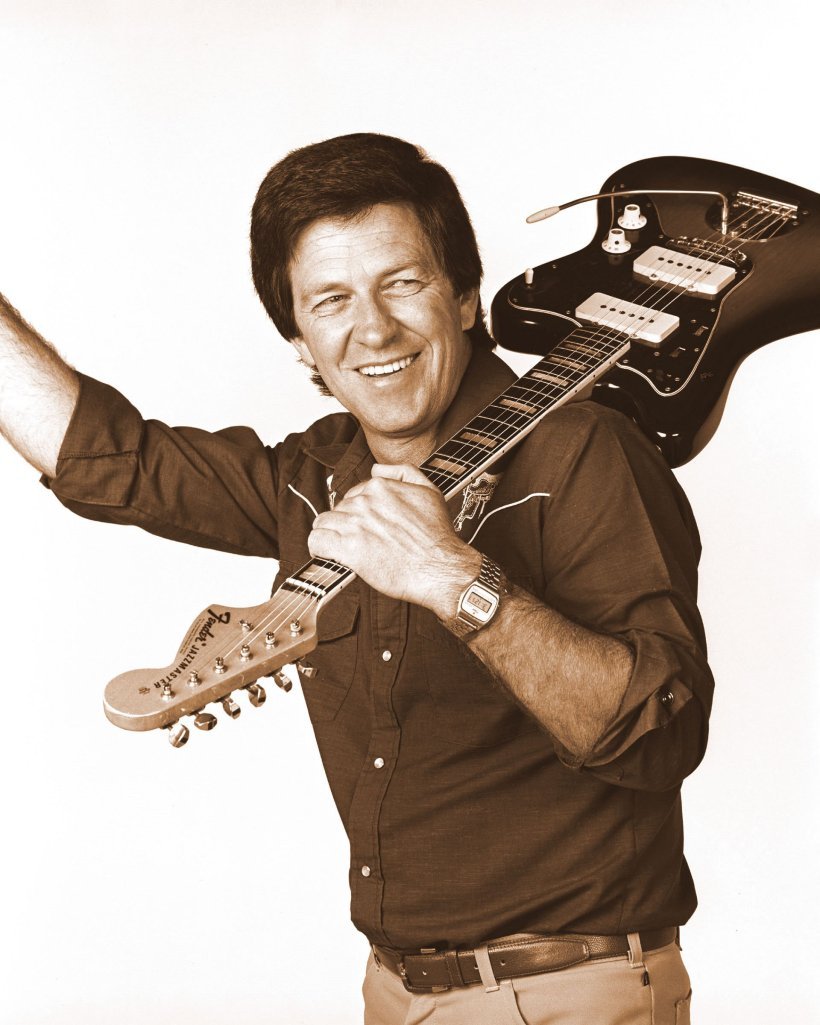 Lindsay Butler received Australian country music's highest honour at the ACMF Roll of Renown Concert at Tamworth's Town Hall during the Country Music Festival in January. The 34th recipient of the famed Roll of Renown Lindsay joined fellow country music legends to accept the prestigious elevation.
Taking the stage to receive the award Lindsay first thanked his wife Shaza for her work and contribution beside him similarly that of his mother-in-law Kay Waddington and her dedication to LBS Music and he referred also to his young son Lachlan.
He spoke about the fellow musicians who too have played a part in his journey. Lindsay reminisced about the years of touring and the Slim Dusty Movie he attended just recently that reminded him of the many years on the road with Slim and first tours with Athol McCoy and later with Buddy Williams Gordon Parsons Stan Coster Brian Young and Barry Thornton.
In what followed as an emotive and sentimental acknowledgement, members of the audience and some within the industry were visibly moved by the sincerity and dedication receiving this award obviously meant to the man known as 'The Master of Country Guitar'.
In an interview later in the evening with CMR Nick Erby asked Lindsay about starting out in the industry. Surprisingly Lindsay remarked that he really wanted to be a singer. 'It wasn't until I was in my 20's that I starting playing more seriously.' 'In 1968 Athol McCoy didn't want a singer for an upcoming tour he wanted a guitar player and I knew I wasn't going to make it as a singer.' He also recounted how he slept for nine months on the backseat of his car when he was first out on the road because he just wanted to play music.
Lindsay won his first Golden Guitar in 1977 for 'Closest Thing To Freedom'. No guesses that he's found it on the road.
The Roll of Renown special plaques are mounted on granite rocks outside the TREC Tamworth Regional Entertainment Centre.
(Latest Release - Vintage Butler - LBS104CD)
(Article supplied by Blurb)


Tom Maxwell Chart Success



Golden Guitar Finalist, Tom Maxwell is gracing the airwaves with his latest single 'Sing Me Another Bush Ballad' written by one of the great writers of verse Ray Rose and lifted from his current release of the same title.
Tom is no stranger to the Australian Country Music world having carved a solid niche in the market with his national touring show and continual stream of high quality recordings for more than a decade.
The entire album showcases the successful combination of songs from the pen of Ray Rose, delivered in the easy-mannered, rich vocal style that has elevated Tom to become one of the most highly sought after balladeers on the circuit. (Sing Me Another Bush Ballad - LBS099CD)
Don't miss Tom as he has already started his 2008 tour - dates are available from this site.

His forthcoming album "On The Road - Volume 2" is due for release in the next couple of weeks. It features many of the live show favourites.
Comedy Double for Currawong


The Currawong (aka Ernie Constance) picked up an "Awards Double" with his comedy song "If They Put a Tax on That" at the recent festival awards. Ernie won the TSA Comedy/Novelty Song Award in Tamworth followed by winning the Comedy Award at the Stan Coster Memorial Bush Ballad Awards at Bungendore. Ernie was thrilled to pick up one award and overawed to pick up the double - Old Stodge has a funny bone after all!
Ernie's song "Burrunga Boy" was also a finalist in the Bush Ballad sectionof the TSA Awards and the Songwriting Section at Bungendore. Both songs are included on his current album "Going Walkabout" which indicates the depth and quality as well as the variety of the songs on this album.
Life has been very busy for the Currawong including a trip to Poley's Place Gloucester at Easter, followed by the Wendy Machell Memorial Concert at Tumut. A trip to the Illabo Country Music Stampede on 22 April, Mulwala Festival on 11, 12 and 13 May, quickly followed by The Wagga Weekend on 18, 19 and 20 May and then down to Warrnambool on Sunday 10 June 2007.
If you wish to catch up with Ernie he looks forward to saying G'day to you along the road of song. (New Release: Going Walk About - LBS097CD)




Ashley Cook Album Launch




Ashley had his local launch on the 17th March at Hotel Thangool where 220 people came to enjoy a good country music night.
Local Mayor Glen Churchill was invited by Ashley to launch of the album "Beneath The Queensland Moon" and 2005 Golden Guitar winner, Bush Balladeer, Wave Jackson read a letter of congratulations on the launch from Lindsay, Shaza and Lachlan and various guest artists performed with Ashley on the night including his daughter Kimberley. Kimberley will be releasing her first single on the LBS Country Collection in a couple of months time.
Ashley would like to thank everyone for making the launch a good night, especially the friends that travelled from Ipswich, Toowoomba, Pittsworth, Roma and Kingaroy. (Beneath The Qld Moon - LBS103CD)
Lana Ross Records Debut Album
Lana Ross is a singer/songwriter from the little sugar town of Marian in North Qld.
Lana has been writing songs for a few years and is extremely excited about the opportunity to record her first album.

" My husband Peter and I are farmers and harvesting contractors from the Pioneer Valley area near Mackay in North Qld. We have a little gem who is seven years old and her name is India" said Lana.
"We had an exciting start to 2007 when Peter and I made the trip to Tamworth to start work on my debut album in the studio with Lindsay Butler. Its exciting stuff let me tell you, recording and watching your songs come together, very satisfying for a songwriter. A special thank you to Lindsay and Shaza for making Peter and I feel so welcome. Ill be keeping in touch and look forward to meeting each and every one of you."
Noel Parlane in New Zealand

"What a great start to 2007 with the No Limits tour to New Zealand, I left for the land of the long white cloud on the 25th January and performed my first show in Christchurch, on this show I had my good Friend Trevor Dawe and my sister Irene Russell from Auckland, backed by the Remedy Showband, great start to the tour. On the Sunday 29th January I performed an afternoon show at the Kiapoi Workers Club, Monday 30th we started the North Island tour in Orewa a town just north of Auckland, met up with friends from ValRay Promotions. On arrival at the hall we met with my old band Neon Moon & gee it was good to see them again. We started rehearsals and the old songs and show format came back together like I had never been away, although it had been 6 years since we had been together for a show.
On the North Island tour, which took in 6 venues, we had the pleasure of working with some local recording artists, Nancy Muller, Colin & Co, Barry Tunnicliffe. and Irene Russell who joined us for the remainder of the tour. The tour to New Zealand was arranged to coincide with the successful signing and release of my new Australian, LBS Music Album - No Limits licenced to the Rajon Music Group. The album was received very well throughout the tour and sold well at the concerts the No Limits is now available and can be purchased in New Zealand at all good record stores.
I returned to Australia, and flew into home town Brisbane on Monday the 5th February, a very weary traveler indeed, found some time to get my thoughts back together, check and load the gear back into the car, as I would be back into the club scene the next day, yes folks, back to the North Leagues club where I perform each week, and before I knew it we were back into it playing the old favourites and line dance music.
We were kept busy through entertaining the clubs to the 1st March where I had to go back to New Zealand for a family Wedding, we decided to take the time to have a little holiday break, it was so good to catch with family and friends do a little fishing, down a couple of Speight's (local Beer) this made the games of Golf go well ha ha but all and all it was a good much needed break, back to Brisbane on the 15th March and yep!! Back into the music next day.
The next few months will see us booked with around 5 shows a week on the local club scene, with a couple of gigs coming up on the Sunshine Coast and then down to Lismore NSW, where I perform once a month, enough to keep me going for a little while.
The No Limits album on the LBS Label continues to be received well through the country and we are getting good airplay on some Radio Stations throughout Europe namely Demark with Bente Keyed and in Belgium with Mia Heylen so all is going well. Paul Hazell from the UK has featured the album on his radio show with the BBC London, with good response, will let you know what is happening there in the next news letter. Look forward to catching up with you somewhere along the track." Cheers Noel. (No Limits - LBS098CD)
Shaza Leigh wins TSA 'Gospel Song of the Year'

Shaza Leigh was awarded TSA GOSPEL SONG OF THE YEAR at Country Music's National Songwriting Awards Concert in Tamworth during the country music festival in January.
Up against finalists Allan Caswell Al Craig and Drew McAlister with 'The Candle' Dean Perrett 'The Bright Tomorrow' Reg Poole & Merrilyn Rossington 'Half Way Home' and Julie McAllan 'Bring Me Home' Shaza-Leigh's self-penned inspirational title track of her latest album 'Strength Within' took out the major award.
Ecstatic with surprise Shaza thanked the TSA and sponsors and LBS Producer Lindsay Butler for his work in production and engineering on what was a special project for her.
As she left the stage she was greeted with more excitement and congratulations in the wings. Even audience-goers seated close to the front of the 800 seat auditorium commented after the show on hearing the backstage shouts of joy on the popular win. (Strength Within - LBS101CD)

Shaza has just updated her new website. Check it out from this site or at: www.shazaleigh.com

Melissa Bajric launches new Web Site
The new site www.melissbajric.com includes Melissa's diary, discography, media and reviews plus her biography and latest photos with online access to purchase merchandise and CD albums. 'As far as I know this is one of the first sites to offer a complete purchase directly from DMC and the recording artist's page' Melissa said with some excitement as she spoke about the options for anyone who wants to purchase online.
The DMC concept and access is now interlinked on Melissa's site making it so easy to make a purchase.
Simply log on to Melissa's site and go to Discography / click on DMC Digital Music Centre logo and you have direct access to track by track sample and purchase. Digital Music Centre www.digitalmusiccentre.com.au has an extensive list of artist product and merchandise. It's an Australian based online distribution company promoting a number of Australian recording artists.
'It's such an easy way to access product for anyone shopping and offers a completely new option for artists through the distributor' Melssa added.
Early Success for Brian in 2007
Amid Brian's busy schedule for the 2007 Tamworth CountryMusic Festival was the introduction of a new venue for his concerts this year. When Brian was initially approached by the management of the Kootingal Bowling Club to hold his 2007 concerts in their auditorium, he was a little hesitant. He need not have been. Pleasingly, all 3 scheduled concerts were extremely well supported and Wednesday evening's performance attracted a "full house." Judging from the audience reaction, it is without doubt that the Kootingal Bowling Club will host Brian's festival concerts in 2008.
Brian also honoured his commitment to Terry Gordon, performing as part of his Cavalcade of Country Music, at the City Bowling Club. These concerts once again embraced excellent crowds, also.
After a successful Tamworth, Brian headed to Bungendore for their very popular annual Country Music Festival, where, as an added bonus the prestigious Stan Coster Memorial Awards are presented. Brian, together with yodelling sensation, Owen Blundell, were the recipients of the Vocal Group/Duo Award for 2007, with their nomination "Rolling Wagons." " It's a great honour to be presented with this award among an extremely high standard of competition. I am proud to have had the opportunity to record this song with Owen and since he has not yet received one of these awards, I would like him to be "the caretaker of the trophy," said an appreciative Brian on accepting his 8th Stan Coster Memorial Award.
On a lighter note, 2007 continued to be successful for Brian, this time in his "other passion" harness racing. Brian's stable star "GRIDIRON BOY", affectionately known as 'SPIKE' WON the prestigious WEE WAA CUP on SATURDAY: 10th MARCH with Brian in the sulky. Brian and Michele were proudly presented with a nice silver tray by the sponsors, as the trophy.
Still trying to get "back on track" after the recent devastating loss of his beloved mother, Shirley, Brian has assured that his touring will soon be back in "full swing." He will endeavour to get back to as many of his usual venues as is possible before the end of the year.
(Latest album - Today - LBS095CD)
<![if !mso]><![endif]>
Hats Off Festival in Tamworth at Butlers Auditorium




The new room at Lindsay Butler Studios, Butler's Auditorium, will host one main concert during Tamworth's mid-year 'Hats Off Festival' 8th July.

ONE BIG SHOW !!!!
The new insulation was a huge success in January making the auditorium a very comfortable venue with full air-conditioning and heating for the colder months.
Sunday morning at 10am, Lindsay Butler and Shaza Leigh will 'open the studio' and present their touring show, with their band 'The Butler Boys.' This variety show travels extensively but they always make time to support local events in Tamworth.
A roster of special guest artists have already been confirmed for the concert including the legendary Brian Young, leading young bush balladeer Ashley Cook, country ladies Lynette Guest and Melissa Bajric and new talent Lana Ross, and The Butlers touring ensemble multi-instrumentalist Lindsay Waddington and the versatile musical duo The Sideys.
Each morning tea held at Butlers also features a new inductee onto the 'Wall of Honour'. The mid-year recipient is currently being approved by the industry panel and will be announced on the website in the coming weeks.
Tea and coffee and basic catering will be available at Butlers throughout the morning as patrons witness some of Australia's finest home-grown talent at this years 'Hats Off Festival'. Don't miss this fantastic weekend in Country Music Capital!!